Dickies Scrubs look and feel great

Our line of Dickies scrubs are one of our most popular clothing items we carry. Since 1922, this name has been synonymous with durable, high-quality, work gear. When you purchase Dickies scrubs, you are getting products with more than 80 years of workwear manufacturing experience behind them. You can be sure that the medical uniforms made by this company conform to the highest standards of quality and durability, lasting longer and still feeling comfortable. The great thing is that tough does not mean boring! For example, the pant styles that we have encompass several fits. You can go with a unisex cargo pant that has 6 pockets, a drawstring front, and elastic back; or you can select the women's flair leg pants that come in 10 colors and are available in petite as well as regular sizes. There is one or more to styles available suit your tastes.
The standard V-neck top we sell has a two-way breast pocket, is available in sizes XS to 5X, and comes in your choice of 6 great colors. The mini V neck has one chest pocket and two invisible pockets as well available in several colors. With options like these we are sure you will find one (at least) that you like!
We want ScrubsUnlimited.com to be your number one source for doctors scrubs. That's why we keep plenty of name-brand products from top suppliers on hand for customers like you.


Nurses and doctors scrubs at a discount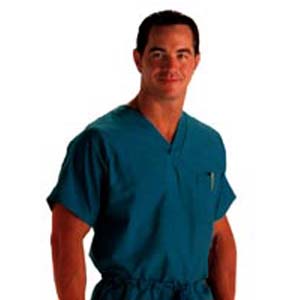 Our comfortable discount scrub tops and bottoms are not only great for work uniforms, but also are extremely comfortable as sleepwear or lounging around at home. Order your very own multi purpose set today and be hanging out in style! Also look at our Fashion Seal Scrubs, scrubs from Grey's Anatomy and other stylish Barco Scrubs.
ScrubsUnlimited.com always has tons of styles to choose from with various colors, and sizes of doctors scrubs in stock. From classic to contemporary, from bargain basics to top-of-the-line fashions, we are confident that you will find something that suits your tastes, needs, and budget. Remember: you don't have to be a health care professional or work in a hospital to enjoy this clothing. Try us today, you will be happy to did!